Viola modello Gasparo da Salò
Violino
modello Guadagnini
Violoncello
modello Domenico Montagnana
My customers describe me as a musician's psycologist…
Every time a customer enters my workshop, I try my best to understand their professional requirements and, I can assure you, it's not easy. But the challenge has fuelled my resolve to pursue this life-long dream. My goal is to allow, through my workmanship, each and every single piece of wood to express its full potential and become part of a unique instrument.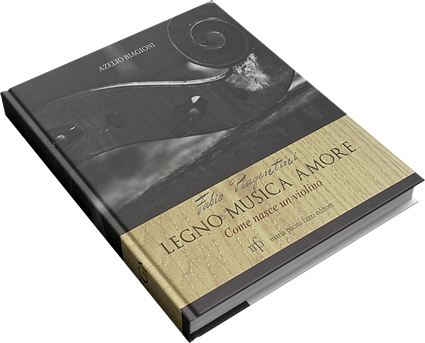 Wood Music Love
Finished writing in 2015, this is the book where I tell my story and recount all the events that have led me to become a lutist, my true self.
You can purchase the book here
Here you can read comments and fond memories shared by my customer.
We first met in Perugia. I was there at an exhibition and his interest for my instrument was immediately evident. Today he plays a "Gasparo da Salò" viola.
Elisa and I are childhood friends and she was one of the first people to place faith in my abilities. Today she still plays a 2007 "Amati" viola I've made.
Marvellous cellist! I'm so proud of her. Today like the first day, she believes in my work. She plays a "Domenico Montagnana" cello.
Very professional and amiable person. Building a viola for him has been a challenge but a complete success! He plays a viola of mine in Parma's Toscanini Orchestra.
Below you'll find a few shots from Marco del Greco taken in my workshop and around some of the most suggestive spots in my beautiful town.
Write me an email
Please use this form to contact me, enquire on my instruments and get additional information about my book.
Thanks 

© 2017 Fabiopiagentini.it
Design and development: Studio Centoundici
Ph credits: Marco del Greco
Fabio Piagentini – Liutaio
Via del Gonfalone 1 – Lucca – Italia
tel: +39 0583.491010